The Call for Participation has closed.
The EPIC2016 theme pathmaking emphasizes the power of ethnography in academia and business to create transformative innovation, growth and strategic success for companies, industries and communities. The conference will highlight the essential role that a deep understanding of human societies and their cultures plays to guide organizations through the difficult, real-world complexities and challenges businesses face today. Read the full conference theme.
The program committee invites submissions of proposals for Papers, Case Studies, PechaKucha presentations and Tutorials that embody the spirit of pathmaking between academia and business (Salons will be part of the EPIC2016 program, but organized by invitation only). Contributions should draw on theoretical advances in social science research (or other ethnography-informed disciplines), coupled with applied best practices from professional fields, to strike new directions for creating knowledge, insights, techniques or applications. Contributors should either be able to show how their ethnographic work profited from engaging with industry, or how methods in their ethnographic toolkit opened new opportunities for businesses, industries, customers or communities, in areas such as:
New product/service development
Innovation
Design
Corporate strategy or organizational change
User experience
Marketing, advertising, communication
We encourage contributions from any of the variety of fields that create/apply ethnography, including: the social sciences (anthropology, sociology, economics, linguistics, psychology etc) & humanities, business strategy, marketing, product management, design, UX/usability, AGILE/Lean, HCI/CSCW, informatics, communications, policy, education, government, defense, international development, data science, leadership, organizational design, change management, technology, software engineering, healthcare and more.
Please join us in Minneapolis!
Important Dates
Proposal submission deadline – March 1, 2016
Acceptance notification – April 30, 2016
First draft submission – June 9, 2016
Final submission (for publication) – August 15, 2016
The Fine Print
All proposals for Papers, Case Studies and PechaKucha go through a double-blind peer review process (overseen by the Program Committee).
Individuals are only permitted to submit a single proposal for a single format (Paper, Case Study or Pecha Kulcha) as author or co-author, so please choose carefully. Proposals for one of these formats are allowed from people also submitting a proposal to be a Tutorial instructor.
Papers and Case Studies will be published in the open-access journal Ethnographic Praxis in Industry Conference Proceedings (ISSN 1559-8918) and on epicpeople.org (access 11 years of EPIC Proceedings here), for which purpose all co-authors are required to sign an author agreement. All authors, PechaKucha presenters and Tutorial instructors must sign media agreements that allow EPIC to video record conference events and share video on epicpeople.org.
At least one Paper/Case Study author or PechaKucha performer, and all Tutorial instructors, must register for and attend EPIC2016 to present their work.
Specific guidelines for each submission format are detailed below.
---
Papers
Papers should aim to advance the discipline of ethnography in industry. We invite papers that will achieve this by presenting new developments, work, or thinking within our practice (emphasizing the interplay between promising theory and business applications). 'Papers' specifically should use the extended essay format to: expand our community's knowledge base of contexts and offers; reflect constructively on theoretical concerns; or present methodological advances. They should draw on ethnographic research, or ethnographic theory, but need not be based on new original fieldwork. Papers may present their author(s)'own research, but should equally build on the work of others, referencing multiple data sources (both published or unpublished; inside and outside the EPIC community).
Above all, we want proposals for papers that will broaden our understanding of ethnographic praxis, by elaborating how ethnography is impacting specific fields (and vice-versa). Papers about putting ethnography to use (for assessing problems or changing industries) will be considered as valuable as accounts of new research.
One condition: papers must go beyond reporting a single project's "findings" toward demonstrating the links between new insights and ongoing debates in ways that will advance the practice. (See 'Case Studies' below for submissions that may still be appropriate if based on single projects).
We encourage papers from authors in diverse disciplines. Paper proposals should focus on one of the following areas (at the intersection of business / social science):
Ethnography/Analytics
We invite papers to the Ethnography/Analytics track that will explore applied and theoretical intersections between ethnographic methods and quantitative, computational, statistical, linguistic, biological (or other quant-led) methods. The ascendance of virtual commerce, social media, and the relative accessibility of so-called "big" or distributed datasets pose a challenge to qualitative methods, and even the possibility of ethnography-led innovation.
The encounter with "big data" therefore presents applied ethnography with an opportunity to renew engagement with fundamental epistemological questions, while exploring both the empirical limitations and virtues of qualitative and quantitative social science.
Having covered the merits of hybrid "qual/quant" approaches in prior conferences, the purpose of this track in 2016 is to advance the state of practice. We will emphasize the selection of papers combining inventive perspectives, interesting problems, and practical challenges (based on interrogation of the theoretical and methodological roots of human sciences like anthropology, ethnomethodology, linguistics, sociology, etc.).
Our objective is promoting novel methodological contributions, so we encourage open exploration. Any subject matter, problem, industry, time period, data set, circumstance, example, subject, country, or medium combining ethnography and analytics, is fair game. Be creative.
Exceptional papers will be challenging, professionally and/or academically rigorous, cross disciplinary boundaries, and impart practical learning or a fresh new theoretical perspective. Some examples might include (but are certainly not limited to):
Interviews
Observation
Empathy, Participation
Social Construction of Reality
Anthropological Data
Ethnographic Video
Performance, Installations
Audio/Music Analysis
Ethnomethodology
Experience-Sample Modeling
Journaling, Diaries
Sentiment Analysis
Natural Language Processing
Data Mining, Data Hoarding
Logs Analysis
Biometrics, Neuroscience & Social-Neuroscience
Linguistics & Computational Linguistics
Content Analysis
Subject-Driven or Proxied Field Work
Mobile technology, Wearables
Measurement
Institutionalism, Neo-Institutionalism
Ontology, Epistemology
Data Visualization, Models
Ethnography/Carnivalesque
Submissions to the Ethnography/Carnivalesque track will highlight the way ethnography excels at making salient the unspoken practices and bottom-up tensions inhabiting any context or system (however 'expert') involving people. "The Carnivalesque" is theoretical shorthand (via Bakhtin) for the riotous human characteristics that seem most prominent during ecstatic cultural or religious festivals, yet in truth, are ever-present.
Carnivalesque thinking posits the world-turned-upside-down (in key aspects like social hierarchy) as a theoretical gambit to highlight the suppressed forces which (however unspoken) equally constitute our settings and situations. Most notably, it reverses that hegemony of attributes which portrays 'mankind' (sic) as essentially serious, hardworking, purposive.
As such, Carnivalesque papers for EPIC 2016 could examine how play, humor, the pursuit of pleasure, distaste, rebelliousness, assertions of self and style, or sociality-for-its-own-sake act as powerful factors shaping commercial offers and industries (even when their influence is not acknowledged).
Since describing such phenomena falls within ethnography's stock-in-trade, we expect papers here will supply insights into some of those 'black boxes' known as "unintended consequences"; as well as illuminate Schumpeter's infamous process of "creative destruction" as it applies to how business & product conventions (or 'canons') are challenged, disintegrate, and re-form (shaped by forces like those above). We request papers which exemplify learning and implications for this theme from the following fields (among others):
Informal or 'Black' Economies
Entertainment, Hospitality & Travel
Gamification
Behavior Change / Compliance Tools
Incentivization / Persuasive Design / Nudges
Social Media Dynamics
Consumer Rituals
Social Tribes / Micro-segmentation
New Product Adoption / Rejection
Ethnography/CSR (Corporate Social Responsibility)
We welcome papers to the Ethnography / CSR track that address the nature and extent to which ethnographic research has up to now and could be further mobilized to help for-profit businesses become vehicles for social change. We call for submissions that will explore how ethnographic research can engage with the growing field of CSR in enabling businesses to:
Create a material positive impact on society and the environment
Expand their fiduciary duty to require consideration of non-financial interests when making decisions
Better report their overall social and environmental performance (using recognized third-party standards)
Business interests claim 'corporate social responsibility' (CSR) is 'the right thing to do", and that acting responsibly is "good for business." Yet critics often argue CSR activities are mainly to divert attention from huge profits, environmental shortcuts, labor practices, or to soothe corporate consciences for not stopping unjust practices until impossible to ignore. To what extent can ethnographic research help the private sector to "do well by doing good"? Hence, we request papers that (among other topics) feature accounts & critiques of:
Collaboration with industry KPIs (key performance indicators) that have successfully (or unsuccessfully) integrated with ethnographic research (guiding it, or using it for data points)
The extent to which existing ethnographic evidence can be (or has been) used to fulfil CSR commitments
Experiences of CSR audit methodologies employing applied ethnographers
Experiences of process improvement opportunities for guiding companies in their efforts to become more resource efficient and/or socially responsible
Ethnography/Emerging Consumers
For several decades 'Emerging' has been a staple prefix applied to such entities as markets, nations, democracies, cultures, and business opportunities. 'Emerging' has been used to label virtually anything about "less developed" others deemed 'new' to the world of market-led consumption, especially by corporate actors (looking for new markets and consumers worldwide). We invite papers for the track 'Emerging Consumers' to address theoretical and practical issues involved with doing industry ethnography within the (seemingly vast socio-economic category of) 'Global South'.
BoP (Base-of-the-Pyramid) was a powerful predecessor (and marketing mantra) that the late C. K. Prahalad made compelling by going beyond development ideology to characterise all 'segments' as active agents for at least for some kind of consumption. But, following BOP's demise (as both a discourse and research program), what lessons can we, as ethnographers, learn from the way it tried to account for this contested category of consumers, who are supposedly emerging, yet towards what? If BoP had had more of 'our' input might it have fared better, or simply imploded later?
'Emerging consumers' papers will occupy a landscape spanning from the micro-portioning of 'the sachet economy' to the micro-finance of the Grameen Bank; anything you have experience of in this area, and the will to write about. As a focus, submissions might, for example, describe: bottom-up players in the repair ecology of ICT businesses (in a place like Dharavi, Mumbai); or analyze top-down initiatives like Facebook's internet.org aiming to provide basic internet (as a human right) to needy citizens around the world. 'Emerging Consumers' papers could cover topics as disparate as the dynamic worlds of micro-entrepreneurship and SMEs; the desires of aspirational middle income groups in emerging contexts; or the strategies of actors near 'the poverty line', striving towards more socio-cultural prosperity in the same locations.
Send us 'descriptive' contributions about what it's like to formulate and conduct ethnographic research in this space; coupled equally with 'prescriptive' arguments about how it all might be done better, or lead to more meaningful outcomes, after investigating such complex ecosystems of players and stakeholders, industries and markets, habitats and localities. We request papers that can reference and build on past work, as well as debunk and go deeper (using new research and thinking) to expand or reform the 'emerging consumer' paradigm through the intervention of ethnography:
Concrete accounts of applied research into business models, consumption patterns, and social mobility in BRICs (Brazil, Russia, India, China) or any other emerging contexts
The role of ethnography to enhance such work (leading to better understanding and better commercial applications)
Analysis of 'emerging consumer' as market ideology vs empirical characteristics of global consumers that can clarify 'advanced' market preconceptions
Interrogating the post-BOP consumer pyramid (with fieldwork evidence from participants who would be located at its so-called 'bottom', 'top', or 'middle').
Experiences of 'translating' research findings into corporate strategies (or new products) for emerging customers
Ethnography/Innovation
Over the last twenty years innovation projects have been established as a mainstay for ethnographic researchers. During this time, a dominant 'folk model' accounting for ethnography's role in innovation has correspondingly emerged. The innovation process begins (at least on paper) with a phase of opportunity research to clarify the 'Fuzzy Front End' of an initiative, and provide 'direction setting' by identifying the promising 'White Spaces' for a new offering or refinement. Research then helps innovators understand 'contexts' and 'users', plus 'current practices' to galvanize the 'ideation' of new concepts. As these evolve, research and researchers intervene to keep 'detail design' on track, and preserve the power of the innovation direction (which they initially identified) from the vicissitudes of actually bringing a new offer to market.
From those subscribing to this type of approach (including most 'Design Thinkers') some form of ethnography is usually advocated as the gold standard for research. This preference for fueling innovation with ethnography is variously attributed to its superior ability for: capturing 'unmet needs'; discovering 'unarticulated desires'; achieving 'empathy with users'; as well as, delivering 'deep insights' that bring epiphanies which realign corporate strategy–putting companies on the right paths to success.
The 2016 Papers Committee is neutral on the 'truth value' of the model sketched here; yet we note its persistence indicates it must have some descriptive (or sales) value for explaining the relationship between ethnography/innovation. Hence we seek papers for this track (with reasoned arguments and cross-project evidence) that confirm, challenge, and explore the theoretical underpinnings of such innovation models in practice:
Confirming – papers arguing for aspects of such models that can be shown to hold, going beyond telling project stories to demonstrating how and why; showing which of the many existing concepts or practices implicated in doing ethnography-for-innovation are valid, illuminating, or effective
Challenging – papers arguing that aspects of current models, from the author's experience, appear to be 'Myths of Innovation'; showing which concepts or practices seem most doubtful, or in need of critique and reform; how much of current frameworks can be retained; what alternatives could be proposed starting from very different premises
Exploring – papers reflecting on innovation concepts and practices in general, based on attempts to apply them in practice; raising questions you may not have all the answers for, but pointing the way toward fruitful new paths for the collaboration of ethnography/innovation
Your paper need not propose a single position above; you can certainly overlap, or mix these stances within an overall argument.
Finally we suggest that, despite the diversity of innovation approaches, most continue to trade on a 'Realist' ontology and epistemology. Approaches seem to share a belief in which "the truth is out there" waiting to be discovered (whether about 'real' customer needs, or objective 'market spaces'). On this view, doing research for innovation is akin to discovering that unknown territory ripest for innovation, then helping your collaborators colonize it (either by Drucker's "hitting them where they ain't" or being "fustest with the mostest"). Is there any viable alternative to this tacit foundation underlying most research in innovation? Has ethnographic research largely shored up this ideology, or problematized it? To make the most 'impact' should practicing ethnographers stay quiet on such 'meta' issues, or if not, is anything gained for innovation by making such issues an explicit focus?
To make headway on these questions (and others), we need your Ethnography/Innovation papers for EPIC 2016.
Ethnography/Organizations & Change
From Amazon.com and city police departments, to Volkswagen and Gravity Payments, the past year saw dramatic headlines about organizational cultures (and their consequences for employees and our wider society). The stories inevitably included a call for change to something different, something better. Yet the flurry of commentary offered little in the way of serious reflection on organizations as cultures. Nor did it address how organizations shape (and are shaped by) the wider societal dynamics within which they exist, or how and why cultures change. As the discipline which specializes in the nuanced and contextual understanding of culture, ethnography offers a much-needed voice in these discussions.
This track invites contributors to take up the challenge of how our work can inform the public discussion around organizational culture and change. We are soliciting papers that will deeply engage with the wide ethnographic literature on cultural dynamics; combining it with Business School and applied management research on organizations and change management. Contributors are strongly encouraged to promote a healthy collision of these disciplines to ask new questions, and reframe the conversation around what is happening in organizations (as well as how to best address conflicts and seize opportunities).
For example, how is our understanding of police violence expanded if we re-frame officer training as ritual, and police departments as kin networks, or pull backwards to see conflicts as a struggle over available resources? What can we learn about broader societal conflicts by studying contrasting institutions, such as Amazon.com and Gravity Payments? How can applying classical social theory concerning the nature of 'charisma' and 'authority' provide new insights into how leaders pull entire organizations in new directions? Submissions are urged to employ core topics from the social sciences and use them to advance our understanding of business and institutions (suggesting innovative solutions based on ways organizations and cultures across the globe have addressed parallel challenges).
We request papers that take on the following topics (as applied to any field–businesses, non-profits, policy, academia, military, etc.):
How and why organizational cultures change?
How have such cultures across time and history faced specific challenges?
What is the relationship between any specific organization and the wider culture within which it exists?
What determines the directional change of an organization?
What roles do narrative, behavior, material goods, and space play in the dynamics of organizational change?
What do we need to understand in order to create change?
How can we intervene in or control organizational dynamics?
What ethical considerations should guide our involvement in organizational change?
What are the consequences of creating change? Who else is impacted?
Guidelines for submitting Paper proposals
Paper proposals must be submitted to one track (analytics, carnivalesque, CSR, emerging consumers, innovation, organizations).
Please write the track name in front of your paper title (in bold caps) (e.g. ANALYTICS: It's a wonderful life doing ethnography: the analytics of empathy)
Proposals must include the following elements in one PDF or MS Word document:

Paper title & paper track
1-page outline demonstrating your paper's argument (main points & topics to be covered)
Abstract of 750 words max (before references)
References to the relevant literature (or other types of existing research & data sources) from which the paper should draw

To facilitate blind peer review, do not include references to you (or your co- author's) identity within the proposal document itself (only within the conference website below)
Submit your proposal at https://precisionconference.com/~epic. You will be asked to provide names and affiliations for all co-authors, as well as an email address for one point of contact.
Additional guidelines (for formatting final papers) will be provided to authors whose proposals are accepted
Questions? Papers@epicpeople.org

---
Case Studies
Case studies serve as real-world examples for fellow practitioners, academics, or students of how ethnographic methods are used to address a specific product, service, project, or organizational issue. An EPIC case study emphasizes methodology, including an account of how ethnographic methods informed a challenge in a concrete business, not-for-profit, or social context; as well the final outcomes achieved through such applied research. We welcome submissions that explore how ethnographic methods made impact for business objectives, while complementing other methods-of-knowing, such as; quantitative modeling, big data, test markets, etc.
We encourage the following types of case studies (among others):
Decision-Making Cases (in which an organization must make a decision or propose a strategy/solution, based on information presented)
Descriptive or Analytical Cases

Success, Best Practice, or Showcase Cases
Failure or "Dark Side" Cases
For a description of Decision-Making and Descriptive/Analytical types, as well as the vision for EPIC Case Studies, please read "Making the Case for Cases", a series of two blog posts:
Guidelines for submitting Case Study proposals
Proposals must include the following elements in one PDF or MS Word document:

Case Study title
Write which type of case study you are submitting (either Decision-making case or Descriptive/analytical case) in front of your case title
1-page outline demonstrating your case study's argument (main points & topics to be covered)
Abstract of 500 words max (before references)
References to the relevant literature (or other types of existing research & data sources) from which the case study should draw

To facilitate blind peer review, do not include references to you (or your co- author's) identity within the proposal document itself (only below)
Submit your proposal at https://precisionconference.com/~epic. You will be asked to provide names and affiliations for all co-authors, as well as an email address for one point of contact.
Additional guidelines for formatting final case studies will be provided to authors whose proposals are accepted
Questions? CaseStudies@epicpeople.org

---
Powered by PechaKucha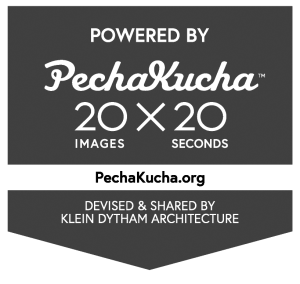 PechaKucha (pronounced "peh-cha-ku-cha") presentations are a rapid-fire performance of 20 image-rich slides. Each slide shows for exactly 20 seconds before automatically moving to the next. Total presentation time is 6 minutes, 40 seconds. PechaKuchas are performance poetry with visual punch. EPIC PechaKuchas can not be mini project debriefs (stuffed with findings and results). Rather, they should tell a compelling story by expanding outward from a single research moment, insight or participant within a study. Alternatively, PechaKuchas can take on any general theme the performer wants to explore, across different studies, field sites, even whole careers—as long as it illuminates some aspect of our practice. Here is your chance to make ethnography visually and verbally lyrical.
These three examples of PechaKucha have the kind of impact & style the 2016 committee is looking for (click to view):
Guidelines for submitting PechaKucha proposals
Proposals must include the following elements in one MS PowerPoint document (or PDF of a PowerPoint document)

A draft PechaKucha ppt presentation (with at least half of the slides required by the 20×20 guidelines above (20 slides presented for 20 seconds each); using images for which you have the necessary permissions)
PechaKucha title & a brief summary of your overall story on the PowerPoint title page (bullets acceptable)
The suggested presentation script of your EPIC2016 performance (eg, your proposed words in the 'Notes' view at the bottom of each slide)
To facilitate blind peer review, do not include references to you (or your co- author's) identity within the proposal document itself (only below)
Submit your PechaKucha proposal at https://precisionconference.com/~epic where you will be asked to upload your presentation; provide names and affiliations for all performers, as well as an email address for one point of contact.
Questions? PechaKucha@epicpeople.org

---
Tutorials
EPIC2016 is pleased to invite proposals for Tutorials. These learning sessions allow attendees to expand their knowledge and skills, and give hosts the opportunity to share their expertise. A popular part of the conference program, tutorials may be designed for novice, general interest, or expert audiences. They can take a variety of formats—such as lectures, demonstrations, panel discussions or group projects—and content should focus on developing specific techniques or skills rather than general debates and issues. They may be up to 3 hours in duration, and ideally are taught by two or more instructors.
EPIC02016 tutorials may cover topics such as:
Foundational theories of ethnographic and design research and business practices
Emerging topics relevant to the EPIC community (e.g., sustainability, IoT, social media 3.0, smart cities, citizen and participant engagement, policy impact, ethics, data privacy and security, validity)
All stages of product development and strategy (e.g., user and consumer research, ecosystem analysis, market signals, UX requirements, prototyping, evaluation, message effectiveness)
Practical and technical methods (e.g., field methods, para-ethnography, online ethnography, storytelling, role playing and improvisation methods, co-creation, prototyping tools and methods, experimental design and analysis, data analytics, sensory methods, semiotics, film-making)
Instructors will have the opportunity to publish a long description about the tutorial in the conference proceedings (approx. 750 words). Video recordings of tutorials will be available to members on epicpeople.org after the conference.
Guidelines for Submitting Tutorial Proposals
Please submit the following components in one PDF document to: tutorials@epicpeople.org
1. Short Description
The concise and inviting Short Description helps us evaluate your proposal and subsequently will be used to market your tutorial to prospective attendees. Include:
Title: Short and descriptive
Instructors: Names, affiliations, brief background and qualifications
One line value proposition: Why EPIC2016 attendees would want to take the tutorial and the skills and knowledge they will gain from it
Short description: Summary statement about the content and format
2. Detailed Tutorial Description (max 750 words)
Learning objectives: bullet list of educational goals and/or major elements
Presentation format: may be multiple; e.g., lecture, demonstration, exercises, videos, group discussions, case studies
Outline of content and schedule: detail the material that will be covered, with time allocations for each part of the content
Takeaway materials for attendees such as annotated bibliographies, notes, background materials, exercises in digital or other forms.
Audience: Assumed background, expected skills and prerequisites required to understand the tutorial. The disciplines, organizational roles, skill levels of attendees for whom tutorial is designed. Include who should not take the tutorial.
Preferred audience size: If you believe there is an optimum size for your tutorial, give minimum and maximum number of participants
Instructors' backgrounds: publications, websites, etc., that provide background and qualifications relevant to the tutorial
Tutorial history: if the proposed tutorial has been given previously elsewhere, please note where and when
Audio/visual needs: EPIC2016 can generally provide a projector, screen, computer audio, and podium microphone
Promotional strategy: how you will attract attendees
3. Sample Tutorial Materials
Provide a sample of the tutorial material you will present, e.g., worksheets, PPT documents, toolkits, videos, etc.
Selection, Acceptance and Preparation
EPIC2016 tutorials will be reviewed and curated by the tutorials committee. Proposals will be evaluated based on:
Fit within the overall mission and interests of the EPIC community, balancing topics as well as relationship to the theme of this year's conference, overall distribution of topics within this year's program, approaches, audience experience levels, and specialties of the intended audience.
Factors such as suitability for presentation given venue and time constraints, timeliness of topic, audience appeal, attendance limits and presentation methods.
Prior experience and qualifications of the instructors.
Tutorials that promote products and services (solely for marketing purposes) will not be considered. Tutorials may discuss techniques or products in the context of larger issues.
Instructors will be notified of acceptance or non-acceptance by March 16th. At that point, instructors will receive more information about formatting requirements and logistics.
Instructors will be required to sign a release form giving EPIC one-time-only permission to distribute materials to tutorial participants and in some cases to video record the tutorial to allow EPIC members continued access to conference content on epicpeople.org. It is the responsibility of instructors to ensure that they have all necessary permissions legally necessary for the use of course materials—including all text, photographs of individuals, and illustrations—both for in-person tutorials and for video recording. Tutorials should not contain sensitive, private, or proprietary information that cannot be disclosed by the time of the conference.
Confidentiality: Submissions may not be anonymous; however, confidentiality of submissions will be maintained during the review process and rejected submissions will be kept confidential in perpetuity. All materials associated with accepted submissions will be kept confidential until the start of the conference, except that EPIC will use information such as title, author, and description to announce and promote the tutorial on the conference website, in the program, and in related social media and communications.
Cancellation: If tutorial notes, release forms, and other required documents are not received by the stated deadline, tutorials may be canceled. Tutorials without enough registered participants one month prior to the conference may be cancelled. We strongly recommend that you promote your tutorial through social media channels, in your own social networks, to your personal contacts and in your teaching, research and professional/practice communities. EPIC will promote the conference program and tutorials specifically, but will not be responsible for promoting or soliciting attendance to specific tutorials.
Send proposals and questions to: tutorials@epicpeople.org