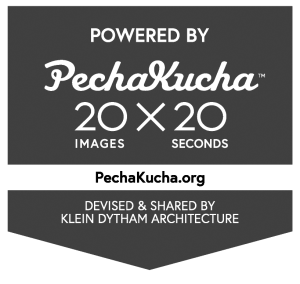 PechaKucha presentations are captivating performances of 20 image-rich slides that show for 20 seconds each. They convey insights about ethnographic work that are unique and profound—offering some of the most memorable moments of the conference for EPIC attendees.
Curators:
Arvind Venkataramani • SonicRim
Nora Morales • Universidad Autónoma Metropolitana, Cuajimalpa
Paul Ratliff • Design Strategist and Innovation Consultant
---
Tuesday 11–11:30am
The Researcher Life
The Flat World
Bridget Monahan • MAYA Design
The Undergraduate Anthropologist
Ruby Dallas • Macquarie University
Locating Ourselves In the Liminal
Ari Nave • The King's Indian, Inc.
---
Tuesday 2–2:30pm
Nature / Natures
Biomimicry: Learnings from 'the Field'
Adina Daar • Independent Researcher
A Prairie Revival
Brianna Farber • University of South Carolina
Living Comfortably In Glass Houses
Alexandra Zafiroglu, Heather Patterson & Faith McCreary • Intel Corporation
---
Tuesday 4–4:30pm
Women / Feminism
Working For It: Feminist Art and Ethnography
Carrie Yury • BeyondCurious, Inc.
Looking to "Right-Hand Women:" Strategies for Shaping Impactful Paths in Business
Hannah Pick Calderon & Natalia Silva • INSITUM
---
Wednesday 9–9:30am
Frames for Thinking
Paradoxical Thinking as a Gateway to Socio-Cultural Insights
Elizabeth Anderson-Kempe • Artemis Research by Design
Critical Jugaad
Deepa Butoliya • Carnegie Melllon University
What I Think about when I Think about Running
Simon Roberts • Stripe Partners
---
Wednesday 11:30am–12:30pm
Reflecting on Methods
"LOLZ OMG, I'M DEAD": The Rise of Performative Behavior in Social Media, and It's Implications for Digital Ethnography
Kathleen Hartnett • SapientNitro
When 'Design Thinkers' Prototype—Through an Anthropologist's Eyes
Bryony Wilson • Empathy
The Elephant in the Room: A Lesson from the Field
Liubava Shatokhina • Gemic
A Thrice Told Truth
Evan Hanover • Conifer Research & Marta Cuciurean-Zapan • IDEO
---
Wednesday 3:00–3:30pm
Standards of Practice
How Asking about the Best Reveals Ourselves
Jennifer Ng • Independent
How a 10-Day Silent Meditation Course Made Me a Better Researcher
Shipra Kayan • Upwork
The Full Epiphany
Robbie Blinkoff • Context-Based Research Group
---
Wednesday 5–5:30pm
Learning with Others
Primate Pathmaking
John Dominski • gravitytank & Christena Nippert-Eng • Indiana University Bloomington
Crescent Cove—Changing Course
Teri Kwant & Nancy O'Brien • RSP Architects